Source: Medscape from WebMD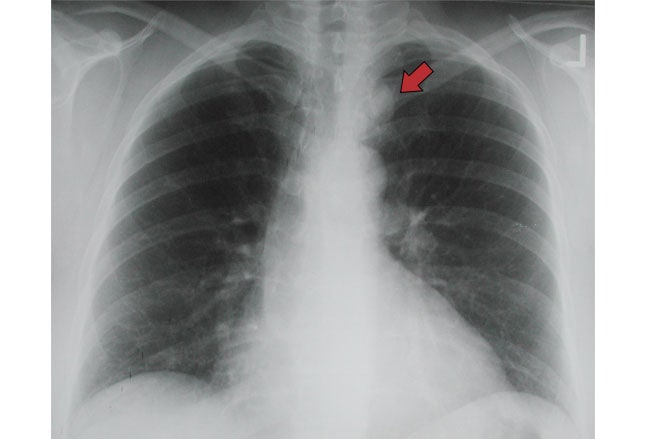 Case (1)
The chest radiograph is one of the most commonly ordered radiographs by healthcare providers and is frequently first viewed by non-radiologists. Although there are many disease processes that are very obvious at first glance on chest radiographs, healthcare providers must be careful not to miss more subtle findings. The image shows a
solitary pulmonary nodule
(arrow) abutting the left upper mediastinum.
Read More ...
Easy-to-Miss Findings on Chest Radiographs: Slideshow

Case (1)

Pneumomediastinum

is free air in the mediastinal structures. It most commonly occurs following trauma or iatrogenic injury to the esophagus or adjacent alveoli. On chest radiography free air may outline anatomic structures. Common findings are a thin line of radiolucency that outlines the cardiac silhouette (white arrow), vertically oriented streaks of air in the mediastinum, a double bronchial wall sign, or lucency around the right pulmonary artery, the "ring around the artery" sign. Air is most easily detected retrosternally on lateral chest radiographs. Air is fixed in a pneumomediastinum and does not rise to the highest point.