Mubarak's health state: Just a thought by reading of some links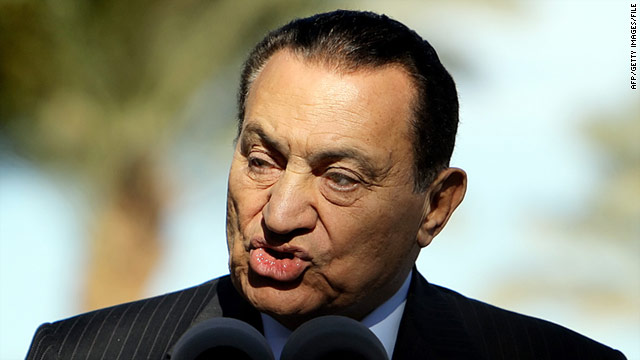 Mubarak (pictured in 2008) had back surgery in Germany in 2004, and returned there in 2010 to have his gall bladder removed. CNN
Yesterday, they said officially by (manger of Sharm International hospital) Mubarak has Atrial fibrillation (AF) and hypotension...Now they said HR was just ~120 bpm. How it comes to be first attack of AF with heart rate of only 120 and respond suddenly to 68 bpm? It may be neurological (Neurogenic) AF ..OK, but usually Heart rate in these states is 150 bpm or higher and must be irregular.
False news spread that he has Heart attack (ACS; USA,MI). This was not true!
They has speculations that he is on chemotherapy, or radiotherapy. SO, he might has cardiac insult. This was not confirmed and even officially rejected today.
He had apparently picture of TIA in Ramdan ~ in 2003. However, MOH said he has Flu and just tired! OK. Other past history include Acoustic neuroma, Back problems treated in 2008, Recent GB operation and they said no Tumors.

OK. I hope he is fine and in a good health. However, they said he is more or less stable yesterday evening,... then not stable today!
Why Dr Elsebaey is there? He is forensic scientists! He might be the head of medical committee. However, where is the cardiologist? Where is the treating doctor?
They said his EF is 73% (Normal range is 60 +/- 10%). OK If he had Acute AF and converted to sinus rhythm...At least EF will be reduced even to low normal range. Never to be in high normal. Even, if he is athlete and pilot.....
Then, they said he has just a nervous break down. That is accepted and logic regarding rate and sudden improvement.
I ask MOH to explain what said at start about (AF)!!
I hope they are telling truth regarding Mubarak health.
By the way, I hope he is OK and well treated before going to fair trial.
This is justice.
Update:
قام الدكتور السباعي بالكشف عليه فتوصل إلى أن مبارك يعاني من الارتجاف الأوزونى، والذي ظهرت أعراضه بوجود ارتفاع حاد فى ضغط الدم، وبطء فى سرعة نبضات القلب، وتبين أن الضغط 80/50، بينما كانت سرعة نبضات القلب 120، وأن حالته خطرة ويمكن أن يقف قلبه، لذا طلب الدكتور السباعي من الجهات الأمنية نقل الرئيس السابق إلى المستشفى فى أسرع وقت.
وكان حوله أطباؤه وزوجته وابناه علاء وجمال وكان ضغطه 80/50 والنبض
120 وكان ذلك يهدد بتوقف القلب
.
وعن حالته الصحية الأربعاء، قال: «توجهت إليه واكتشفت أن ضغطه ارتفع إلى 130/80، وأصبح النبض 65 وهو طبيعى، وتبين للفريق الطبى أن مبارك يعانى من ارتجاف الأوزنى فى عضلة القلب وصافحته وغادرت المستشفى وكانت به حراسة كبيرة من الأمن خارج الغرفة وعلى بابها».
Even, they said again it is due to DRUG (iatrogenic)...and he is seen and examined clinically by Dr elsebaey! Heart rate is low and high in same paragraph at elahram (Public official newspaper)! Even Arabic MEDICAL translation is not correct (AF)by anyway in many links.

http://gate.ahram.org.eg/News/60071.aspx
http://www.almasryalyoum.com/node/399103
http://edition.cnn.com/2011/WORLD/africa/04/12/egypt.mubarak.hospitalized/index.html
http://www.trust.org/alertnet/news/egypt-newspaper-revives-questions-over-mubaraks-health/
http://edition.cnn.com/2011/WORLD/africa/04/13/egypt.mubarak.family/index.html
http://www.reuters.com/article/2011/04/12/us-egypt-mubarak-idUSTRE73B1D120110412
http://news.bbc.co.uk/2/hi/middle_east/3225466.stm
http://ca.news.yahoo.com/mubarak-still-hospital-health-unstable-source-20110413-053711-530.html
http://www.allvoices.com/contributed-news/8764132-mubaraks-health-condition-allows-him-to-investigate/stories
http://english.ahram.org.eg/NewsContent/1/64/9977/Egypt/Politics-/Mubaraks-health-unstable-but-he%E2%80%99s-not-dying.aspx
http://english.cntv.cn/20110413/104785.shtml
http://www.guardian.co.uk/world/2011/apr/12/hosni-mubarak-hospitalised-egypt?CMP=twt_fd