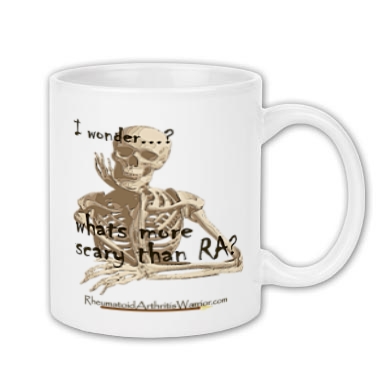 It was world arthritis day, 12 October, when I finished my first 3 months of immuno-therpy of RA.

I had juvenile RA during adolescence then long remission. Last decade, I suffered many activities of the RA. I said SUFFERED as I was wrongly diagnosed as Spondylo-arthropathy and many other false diagnoses and kept on non-steroidal anti-inflamatory and analgesics (NSAIs). Lastly, I started the proper therapy. Some side effects and little improvement could make me upset and worried about my physical activity with the disease. I feel like imprisoned with both symptoms and side effects. I know that late diagnosis and treatment is a cause. It is so hard to read the first statement in most Rheumatology books quoting " There is no cure of RA".
Yes, I have disease, but I still have a hope and belief in God and myself.

I decided to GO AHEAD in my life working well and even thinking of nominating myself in the current Egyptian parliament elections besides my work as cardiology specialist. I started my new Private cardiology and pediatric clinic after ten years of graduation. That was my hope postponed years as I was busy in my postgraduate studies and frequent disease activities including limiting arthrlgia.
My advices
:
" do not surrender to the disease"
. "Got best treatment for less symptoms"
"Got the experience of other patients".
Some famous
celebrities have RA
. Here is list of top 10 Celebrities with Rheumatoid Arthritis.
"One of the most illustrious celebrities to live with Rheumatoid Arthritis was Rosalind Russell."
Rosalind used her celebrity to advocate for awareness & research. "Frustrated that doctors knew very little about arthritis, she successfully lobbied Congress to pass the National Arthritis Act,"
Do you know that famous
French painter Pierre Auguste Renoir (1841/1919) has RA?
Two Sisters (On the
Terrace 1878). Renoir revealed the happy side of life in his images. "For me a picture must be an amiable thing, joyous and pretty—yes, pretty! There are enough troublesome things in life without inventing others." Marcel Proust said: "Women who go by in the streets are different from their predecessors—now they are Renoirs"
ART INSTITUTE OF CHICAGO/BRIDGEMAN ART LIBRARY
Renoir's grandson Paul shows how Renoir held his brush when his hands were severely deformed by arthritis.
"One must from time to time attempt things that are beyond one's capacity."
Pierre-Auguste Renoir.
So, how Renoir coped with rheumatoid arthritis?
I wonder how he did his delicate fine work with limiting arthritis in the era of old classic treatment? I can do better in the recent new treatment modalities nowadays.
In world arthritis day:
Share your experience with other. Celebrate your success in overcoming the disease rather than your failure. Raise the public awareness of RA early diagnosis and proper treatment through small group discussions and new social media.

Yes, you can.
Life is fragile, but we are strong.
SPECIAL THANKS :
Facebook group " Rheumatoid Rioters" and my friend " Rheumatoid Riot" for continuous encouragement and updates.

My friends and family who supported me.

My treating physician.

Brave little Ayla who made me stronger.